About The Babysitters
Born in 1994, we have made light of our middle-class backgrounds and predeliction for cheesy keyboard stylings to become one of Cambridge's top live bands. Not, in itself, a particularly impressive achievement, but better than nothing, especially since we reached this dizzying pinnacle of the music business by being dead good. If you want to know what we sound like, you can download selected bits and pieces (see below). Meanwhile, here are some things The Babysitters are not like:
None of us has ever worn leather trousers on stage (Steve wears them to practices though...).
We don't have an old Bedford van with "The Babysitters" painted on the side in white emulsion.
None of us plays the harmonica.
We don't make interesting and imaginative use of feedback and distortion.
None of our girlfriends plays the tambourine.
We have never attempted to perform an "unplugged" set in a field at the Glastonbury Festival.
None of us were at school together.
We don't have long and earnest discussions about our influences.
Go back
---
Who Are The Babysitters?
The Babysitters are 4 great guys with an unfortunate preponderance of changing drummers. Still, our current drummer is dead good and looks OK in the dark.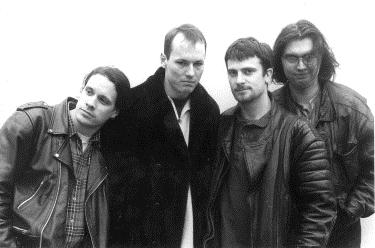 From left to right:
Ben Taylor

He's one of those rare beasts; a male primary school teacher. He plays left handed and has an enormous yellow kit.

Our spiritual leader. He writes the songs, organises everyone, sings and plays guitar. He works as Assistant Editor for Sound On Sound magazine; a job which he got because of his in-depth knowledge of playing extended guitar solos.

Stephen Borrill

The bass player and person responsible for the cheesy (and occasionally in-tune) backing vocals. He runs his own computer company (Precedence Technologies) and drives a large motorbike.

Bernard Leckie

What is there to say about the illustrious Mr. Leckie that hasn't already been said? The bouncy keyboard (or Cheeseboard as it should more accurately be known) player that's into radio. He works in digital radio, on and off.
STOP PRESS. Now that he is living in Bristol, Bernard's role has altered to be a more advisory position.

Matt Carter (not pictured)

The latest fine pedigree example to join the Babysitters' stable. Matt has admirably continued the fine tradition of our cheese R&D department with his astounding curds and whey keyboard sound.
Go back